commercial tile solutions in Calgary
European Craftmansship in Calgary
Why Us?
A commercial tile installation well done can improve the looks and durability of any area. If you're looking for commercial tile contractors in Calgary to get your commercial tile installation done well – then we are your best option.

Whether you're a restaurateur, a club manager, a real estate renter, or a store owner – you'll receive exceptional tile installation quality that lasts for long, looks terrific, and sets your business on another level..

Here, we are going to explain why it is so essential to hire expert commercial installation services, which services we offer, and why we are your best bet.
Learn what our clients say about our repair services
Expert Commercial Tile Floor Installation
Among the many surfaces that stand out in businesses and commercial buildings, few offer the smoothness, beauty, and durability that commercial tile does.

But to enjoy all of the tile's benefits, it is critical to install them properly. Otherwise, many problems may arise that will make your business and property look less than enticing.
Val fixed our leaky shower and he was excellent. He was able to come on short notice and did a fantastic job. It took him slightly longer than he initially estimated but he stuck with his originally quoted price.
Read more
.
We hired Val to remove an existing shower enclosure and install a custom tiled shower. From start to finish Val was super easy to work with. We are very pleased with the final result and highly recommend MB Tile for your tiling needs.
Read more
.
I wish we had met these guys sooner, because we've had so much work over the years. I can honestly say we've had it all… The good, the bad, and the ugly! Val and his apprentice were fast, exceptionally clean and the opposite of all prior tile setters in our past. Read more.
Why We Are..
The Right Commercial Tiling Solution
Now that you're aware of the different commercial tile installation services we offer, let's take a look at why you need to hire us over everyone else:
⁄01
Certified Staff
Every single one of our commercial tile contractors has been doing this kind of job for years. They take the job seriously and focus on delivering the highest quality possible.On top of that, they are all certified and trained to follow a set of rules and quality standards. You'll receive impeccable results thanks to the work of professional and dedicated tile installers in Calgary.
⁄02
Clients come
first!
We know how important it is to have clear and trustful communication. So we focus on always listening to your needs and demands, giving you advice and recommendations, and trying to follow every single one of your requirements to the letter. We won't stop talking to you, and we'll keep it personal but respectful.
⁄03
Only Quality
When you hire low-quality commercial tile installers, You'll encounter the most common problems you'll experience. With us, however, you don't get any of that. We always make sure you get the utmost quality, no matter the scope or type of the job. And we'll always take it with the utmost professionalism – anything we break, we fix.
Morina Brothers Inc:
Importance of Experience in Commercial Tile Projects
Hiring professional tile contractors for Calgary allows the tile to last longer, to prevent chipping and cracking, and to stay attached to the floor or surface for decades.

With the proper installation, every tile can last a lifetime.
Types of Tile Services For Businesses
We will install a wide array of tiles in a wide variety of scenarios. Here are some of the projects we can help you with: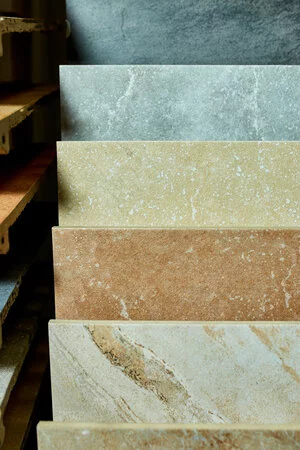 Types of Tile Services For Businesses
We will install a wide array of tiles in a wide variety of scenarios. Here are some of the projects we can help you with:
Restaurant and office kitchens
Lobby floors
Commercial bathrooms
Office break rooms
Patio decks
Pool decks
Commercial kitchen
Countertops
Bar tops and floors
Club tables and floors
We Follow the Latest Practices
Our entire team follows quality procedures to deliver the result you want in less time than you expect while keeping the quality at its max. And it all comes from a set of practices (always changing) that help to get the job done as no other service can.
Here's how our process goes:
Initial talk with the client.
Visit the site for layout & planning.
Selection of trim and tile with the client.
Start of the job by removing the old flooring (if required).
Installation of new tiles.
Cleaning, maintenance, and sealing as necessary.
All of this takes 1 week for a small job or up to 4 weeks for the largest ones. We can always adjust to your needs as required.
Hire Expert Commercial Tile Installation in Calgary Now!
As you can see, hiring to the task commercial tile installation services in Calgary is super important for Your business. And when you do it with us, you get unbeatable results in almost every way.
So, what are you waiting for? Our commercial tile contractors are waiting for your call. You won't regret hiring us!