finest tile setters in Calgary
European Craftmansship in Calgary
Long Lasting Tile Installation
We know how hard it can be to install tiles by yourself.
The process may take several hours up to days of your time, takes a specific type of expertise, and is not easy to do to perfection. That's why hiring experts for the job is always the best path to take. People who know what they're doing and can get the job done fast – we're exactly what you're looking for.
Below, you'll find the different tile installation services we offer, and why we are such an excellent option for your business. Take a look!
Learn what our clients say about our services
Residential Tile Installation
So many people are installing tiles in their homes now – but few do it following the right steps, and even fewer deliver the right results.
If you're looking for Calgary tile installers to set up tiles in bathrooms, kitchens, showers, backsplashes, walls, floors, or just anywhere around home – then we can make that happen for you.
We are a tile setter Calgary company that specializes in residential tile installation, providing exceptional results no matter what you're looking for.
Val fixed our leaky shower and he was excellent. He was able to come on short notice and did a fantastic job. It took him slightly longer than he initially estimated but he stuck with his originally quoted price.
Read more
.
We hired Val to remove an existing shower enclosure and install a custom tiled shower. From start to finish Val was super easy to work with. We are very pleased with the final result and highly recommend MB Tile for your tiling needs.
Read more
.
I wish we had met these guys sooner, because we've had so much work over the years. I can honestly say we've had it all… The good, the bad, and the ugly! Val and his apprentice were fast, exceptionally clean and the opposite of all prior tile setters in our past. Read more.
Why We Are..
the Best Tile Installers in Calgary
As tile setters, we take every job as seriously as we can. But that doesn't mean we work grumpily and rigidly. Instead, we will offer a complete and reliable experience. Here are some of the benefits you get from us:
⁄01
Top-Notch Service
from the Start
We take all your needs into consideration before beginning. We make a plan so we can follow all your demands on the job. And we'll always be updating you on the process until we finish.We want you to be delighted from the first moment we arrive at your house to the moment we leave.
⁄02
We Tackle
Every Tile Need
It doesn't matter what kind of tile installation, maintenance, or any tile repair you want to do. We can get the job done either way. With our years of experience and professional skills, you can expect us to tackle every tile job with utmost perfection.
⁄03
Professional
Service
Every tile contractor we put to your service is a professional with years of experience in the market. He knows what to consider, what to ignore, and how to tackle the job in the most efficient way possible. For those who want excellent results from the hands of professionals, nothing will beat our services.
⁄04
First-Rate
Customer Service
We want to make you happy – nothing else. And we transmit that through every one of our tile installers and workers.You can expect high-level communication, top discipline, utmost professionalism, and total attention to your needs.
Morina Brothers Inc:
5* Rated tile installers
You can expect the utmost quality from us. Every single time – we'll go far beyond your expectations.
---
Do you need to remodel your kitchen? Count with us for the tile setting.
Need to make your entryway look better? That's a piece of cake for us.
Want to give your bathroom a new look?
Feel like updating your porch floor? Then count with us to make it happen.
Any type of tile fixes or maintenance.
Business tailored tile solutions and installations.
Types of Tiles We Work With
We don't only work effectively, quickly, and carefully – we also work in a wide array of tiles. As the best tile contractors Calgary, we work with almost everything you can expect. Here's a list of what we can help you install: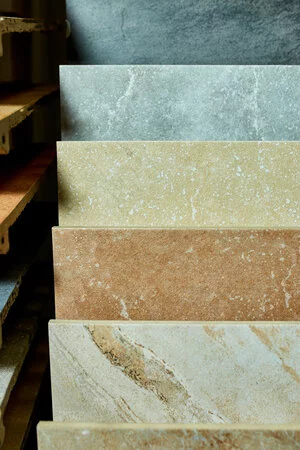 Ceramic Tiles
Usually affordable and available in a wide array of colors – ceramics are almost always your best bet. But they are fragile. Without proper care, they can break easily. We can prevent that by proper installing any ceramic tiles.
Mosaic Tiles
Either made of clay or porcelain, mosaic adds a uniquely rough yet stylish design to your walls and floors. But setting it up can take tons of effort and time. Get rid of that effort & time with our help.
Backsplash Tiles
There's no better product to remodel your kitchen countertop than with a backsplash tile. To install one of these, you won't find anyone better than us – we've been installing them for years.
Porcelain Tiles
Porcelain is like ceramic, but firmer, more stain-resistant, and smoother. Cutting, installing, and arranging porcelain can take tons of time and effort. With a professional service like ours, you can save some of it.
Glass Tiles​
This tile converts even the dullest areas into the most artistic spaces. But it's necessary to install each tile with the utmost care. If you hire us, you can obtain a totally shatter-free experience.
Granite Tiles
It goes well in bathrooms and kitchens, and it requires special treatment to be installed appropriately. That's why you must rely on an expert to do so. We can make it happen.